Life had its ups and downs and though they were poor, my mother, Frances, said they always had enough to eat and clothes to wear.  Grandma made sure of that.  She was very industrious and used whatever bits of this and that to make something beautiful.  She was a marvellous housekeeper, no matter how much work she had to do, her home was perfectly clean and delicious food was prepared.  She was thoughtful and generous. She often "did without" so that others "would have".  She had a beautiful smile and a contagious laugh.  She was a committed believer in Jesus Christ.  When I would ask her how she was, she would always reply: "Thanks to the good Lord, I'm doing fine". She would always end a visit or a phone call with a warm "God bless you" or "Dios lo bendiga".

I know that Grandma never had a life of luxury, but she was always thankful for what she had.  I can only wonder now what she will do in her mansion in heaven!  She never learned to drive a car, but surely now she will have wings to fly!

Aurora leaves behind 5 children, (Freddy was tragically taken away), 18 grand children, 30 great-grandchildren and 1 great-great-grandchild.  She also leaves behind 4 brothers and many others family members and friends.

For those who put their faith in Jesus, we leave this life for one that is better.  Grandma, I will see you again one day in a place where there are no tears or pain.  Tell Grandpa that he will have to teach me again those number games and that I owe him thousands and thousands of kisses.  Tell Freddy that he looks good in white and enjoy getting to finally know Faustina.

From one of your granddaughters, 

With love,

Judy

Today we mourn the passing away of our cherished mother, beloved grandmother, blessed great-grandmother and great-great grandmother, faithful sister, aunt, cousin and friend.  We are sad because it is hard to lose someone we love so much. But in our sorrow, we can reflect on her life and find so many reasons to be thankful for a full and blessed life.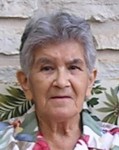 My grandmother, Aurora Suniga was born October 16, 1916.  She was one of eight children raised in Gonzales, Texas.  I can only imagine that Aurora was a great help to her mother and father and a committed sister to her seven brothers and sisters.  She married Manuel Longoria in 1937 and gave life to 7 children.  One daughter – Faustina - died at birth, but was never forgotten

(October 16, 1916 – August 11, 2007)